Photokina 2012 Final Report


01st October 2012
As Dumbledore might say if he were a photo enthusiast: "Another Photokina...gone"

It was a smaller fair this year; a couple of the halls weren't totally full, while one full hall was empty. Many booths were also noticeably smaller this year. And I also experienced a first this year: discounted tickets. The normally 45€ per day tickets were available through two of my regular photo suppliers for a heavily discounted price of 14€.

Among those I didn't see this year: Nik Software, Naneu Pro Bags, Adobe, Bibble Labs, Topaz Labs, Jill-E Bags and Manfrotto. ACDSee was relegated from the large booth that they always had to a single non-manned work station in booth with other software suppliers.



In this year

: actions cams, 24mp point and shoot cameras, 3D modeling set ups and instant cameras (move over Polaroid!)



Out

: mat supplies, mat cutting machines, scrapbooking suppliers, and many photo book stands.

Hanging in there: darkroom equipment and supplies



To come

: ball shaped tripod/beanbag (it held my Fuji S5pro, external battery pack and Sigma 105mm 2.8 lens) and eco-friendly lens wipes by Hoodman USA.



Always a pleasure so see

: Greifvogelstation Hellenthal and their beautiful eagles and owls.
My chuckle of the day

: asking a salesman at a book stand if he had any books on IR photography and him asking what IR was.

There were more photo exhibitions this year, perhaps to help fill the empty space left by absent suppliers.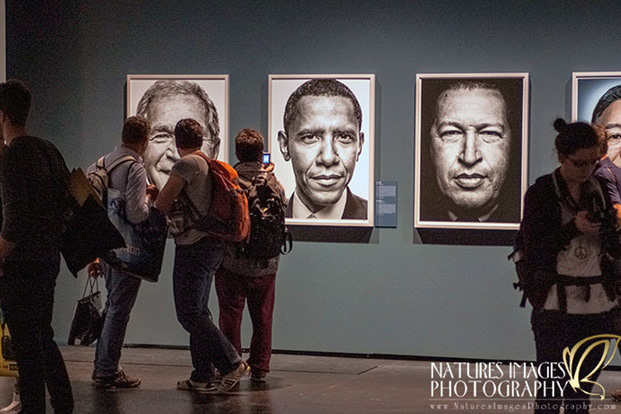 I have to say, though, the most moving photo exhibition that I saw was from the Japan Professional Photographers Society called "Ikiru" (We Survive) Post-Tsunami. The photos are not only documentary of what happened on March 11, 2011, but what happened after...the slow and painful process of finding out what happened to their loved ones, life in a temporary shelter and the slow recovery of their lives. The stories that the photos told were incredible and painful. I do hope that the exhibition is shown elsewhere outside of Photokina so that others can see not only what these people went through, but the way that they shared what little they had with strangers.

You can see the exhibition trailer, and read a bit about it here: http://www.jps.gr.jp/tsunami/

I enjoyed visiting the Awagami Inkjet Paper booth and seeing what new papers they had this year. They have a new German distributor: Rauch Papiere, Folien und Ideen (www.rauch-papiere.de). I talked with one gentleman at the Awagami booth for a few minutes before his partner came over. Before I could say anything, she said that she remembered me from the last Photokina. She was right as I remember spending some time talking with her. Awagami has some wonderful handmade paper; definitely different than others on the market. I brought home a sample packet to try out. The gentleman at Rauch showed me several of their different papers. I picked out several favorites (among them a Silver Iridium Pearl) and am waiting on promised samples.

And, speaking of papers, Moab was there this year. They told me that they also have a German distributor: Life Foto (www.lifefoto.de). I was able to bring home some paper samples of their Slickrock Metallic Pearl 260 and Lasal Dual Semigloss 330 papers.

Hahnemühle paper was also there with their usual info packed stand. They offered sample packages of their paper at 5€ each with the money being donated to a worthy wildlife cause. Kudos to them for doing it! They have several new papers which I look forward to trying out.

The usual big name camera manufacturers were there: Nikon, Canon, Hasselblad and the like. Only at Photokina can you do something that you may otherwise not be able to do: handle and try out a camera set up worth over $20,000.

There were less half-naked painted ladies there this year, although you could easily tell where they were by the hoard of men snapping away with their DSLR's and cell phone cameras.

My personal highlight was seeing one of my photos hanging in the Epson booth as part of their Digigraphie gallery.
All in all, it was time well spent. Now comes the time of sorting through all the information and materials that I brought home and make my list to start ordering.

Mark your calendars for the next Photokina: Sept. 16-21, 2014.

A Good Deal on Photokina Tickets


21st July 2012
For those who plan on attending Photokina this year, Monochrom (http://www.monochrom.com/) has a great deal on tickets. Instead of paying 29€ for a day ticket, if you purchase the tickets through Monochrom, you only pay 14€. They will send you a voucher through the mail which you can redeem through the Photokina store and download/print your ticket. They do, however, have a limit of two tickets per purchase. But, you can return to the store and make further purchases of two tickets…no limit there (and they don't charge shipping).

It took only a couple of days for me to receive my vouchers in the mail and ten minutes to redeem them in Photokina's store. I've downloaded the tickets and printed them out – I'm good to go!

Instead of paying for a two day and a single day ticket (I plan on attending three days) for a total of 76€, I paid only 42€. Not a bad savings, I'd say!
Converting a DSLR to Infrared


29th May 2012
I had thought about having one of my Fuji DSLR's converted to an infrared-only camera for a couple of years but balked at not having a back up should my main Fuji fail.

When the chance of having a Nikon D80 (with less than 100 shutter actuations) converted appeared, I didn't hesitate.

There are a number of companies on the net offering the service, but I had heard of one company in particular - Life Pixel (www.lifepixel.com) - and decided to check out their website. I was pleasantly surprised! Not only is the website easy to manage but it also has a number of movies (which can be downloaded for repeated viewing) that explain (among other things) the conversion process, how to set a custom white balance, and how to manipulate your image in Photoshop.

I was sold!

They do ship anywhere overseas, but I wasn't crazy about sending my camera through the German post, so I decided to have it done while I was in Florida visiting my family. Although I ordered the rush processing, I failed to take into consideration that UPS normal shipping would take longer than what I had imagined. But, thanks to their wonderful customer service (hats off to Daniel), he made sure that the camera was returned to me while I was still in Florida. I even had a few days to try it out before returning home.

In going from different lighting conditions, setting a new white balance is a must. But, seeing as I set white balances based on shooting conditions, this isn't a problem.

My first attempts at Kloster Maulbronn turned out pretty well. I'm looking forward to attending the Epson Digigraphie partner meeting in Zingst this weekend and will be taking the camera with to do some shooting.
Upcoming Exhibition


02nd March 2012

Seventy artists - painters, sculptors, photographers, and the like - will be exhibiting in the Kreishaus in Bad Ems, Germany from March 22 through April 20, 2012. One hundred eighty-one works are scheduled to be shown. I received an invitation to show and gladly accepted as I have shown in the Kreishaus and thoroughly enjoyed it.

I received a number of invitations and posters in the mail and was pleasantly surprised to see one of the photos that I plan on showing is featured on it - the black and white photo of the castle on the left side.

The exhibition opening is Thursday, March 22 at 6pm with the District Administrator, among others, scheduled to speak.

The story behind the photo…Metamorphose


20th February 2012

Sayn has many wonderful places to visit: among them is the Schmetterlingshaus – the butterfly house. As you enter, you're transported into another world…a tropical one. Here various species of butterflies, small birds, turtles, lizards and even quails flourish in a native-like environment.

From March to December for an entrance fee of 7,50€, you can spend hours there roaming from room to room and photographing the different species (using a flash is not allowed, however). It's easy to lose track of time here.

There is a large sized box mounted on the wall with a glass and screen door that houses the butterfly pupa. If you time your visit right, you can catch one or more butterflies emerging from the chrysalis right before your eyes. And, using a wide open aperture you may be able to blend out the screen, such as I did here.

The story behind the photo…Artist's Hands


18th January 2012

People often wonder about my trademark hands photo and ask how it came to be.

Wolf and I traveled to a village called Gimmeldingen to attend the Mandelblütenfest (Almond Blossom Festival) and to try out a dish that we heard is native to the region: Saumagen. After wandering through the fest we found a small restaurant and ordered our Saumagen. As is common here, if a restaurant is full and you have room at your table, you may be asked to share it. Since all the small tables in the restaurant were full, we sat at the end of a large empty table, expecting that we might be asked to share. A party of six entered and, seeing that we had room, asked to share our table. As their red wine arrived, the gentleman across from me cupped his hands around his glass to warm the wine.

I had to have that shot!

I asked Wolf to ask him (since I didn't want to raise my voice too loud over the commotion) if I could take a photo of his hands. Wolf offered to have me shoot his, but there was something about this gentleman's hands that fascinated me. Wolf finally relented and the gentleman agreed. Not wanting to use flash, I braced my elbows on the table, upped the ISO and took two shots. The man, as it turns out, was a ceramist so he didn't think the request was too strange. We enjoyed our time with the group and left with his address should we ever be in the neighborhood again.

A couple of weeks later, I sent him a copy of the finished photo with my thanks for indulging me.